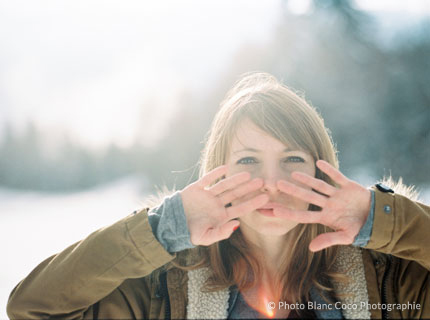 Nathalie, un petit brin de femme discrète, spontanée, au sang à moitié slave, 34 ans, qui a développé un goût prononcé pour les arts plastiques dès l'enfance.
Aidée par son ami Julien d'Acacia Piks pour le graphisme et certains travaux manuels, ils forment un duo d'artistes à votre écoute pour le bon déroulement de votre événement.
Nathalie is a thirty four-something bundle of spontaneity, she is discreet and half Slav. She has loved making things and creating things Do It Yourself style since childhood, starting young by knitting her favourite dolls a whole new wardrobe of stylish clothes.
Véritable accro aux petits détails qui feront la différence le jour J et militante mariage anti-conformiste, elle aime relever les défis décoratifs. Vous ne la croiserez jamais en train de construire une arche de ballons ou nouer des ballotins de dragées en organza. Après plusieurs expériences accomplies en tant que chargée de projets événementiels dans les sports de glisse, elle met à votre service ses 11 ans d'expérience d'event planner dont 7 ans entièrement consacrés à la planification et décoration de mariages sur mesure. Plus de 100 mariages à son actif.
A real stickler for all those important little details that will make the difference on your wedding day and a firm believer in the "Extra" ordinary, she loves a decorating challenge. You'll never catch her creating an arch out of balloons or wrapping up sugared almonds in pastel organza. Nathalie will put all her experience into creating your dream wedding - a total of eleven years of successful event planning including four fantastic years in sports events management and a further seven years totally dedicated to the organisation and decoration of amazing and inspirational custom designed weddings. More than 100 weddings getting organised.
Les mariages à la montagne, les journées enneigées, chiner dans les brocantes, les matières naturelles, le thé à la cannelle, le tiramisu, Pedro Almodovar.
Magical winter weddings, snowing days, second-hand shops, natural materials, cinnamon tea, a delicious tiramisu and Pedro Almodovar.
Le gaspillage et la surconsommation, les gerbera, les jeux télé, l'hypocrisie, le bruit du polystyrène, patienter dans les embouteillages, la glace à la pistache.
Pointless waste and excessive consumerism. Gerbera flowers, television games, hypocrisy, the sound of Polystyrene, waiting in traffic jam, pistachio ice cream.
Basée à Annecy, mais connectée à l'international, elle n'hésite pas à sillonner la France entière, la voiture chargée de décorations réalisées sur mesure ; le tout parsemé d'une dose de bonne humeur, d'un soupçon d'originalité et de beaucoup d'imagination !

Based in Annecy, but open to the world, she is forever travelling around with her car stocked up and piled high with beautiful custom made decorations and other gorgeous objets to delight and surprise you, not to mention vast amounts of good humour, a big dose of originality and lots of imagination!